The right van for the job
From the December 2022 print edition
Average Canadian households may turn their noses up at minivans, but these expert haulers of people and cargo continue to play a vital role in many fleet operations.
And when finding the right van for the job, fleet buyers have critical choices to make. There are minivans on the market today that can offer maximum interior space, compact-like levels of fuel efficiency, all-wheel drive, and affordable prices, but no single minivan sold today offers all these attributes in a single package.
For applications where fuel economy is a high priority, the Toyota Sienna is an obvious choice with an estimated fuel consumption rating of 6.7 litres per 100 kilometres combined. The Sienna is bested by only one other minivan on the market where fuel efficiency is concerned, that being the Chrysler Pacifica Hybrid, which is a PHEV and needs to be plugged in to achieve its 2.9 litres-equivalent per 100km rating.
The Sienna is what Toyota calls a self-charging hybrid, meaning its 2.5L, four-cylinder engine, electric motors, and 1.9kWh battery work in tandem to keep the battery charged and electric drive assistance available in most situations. It can't spend time running in full-electric mode like the Pacifica Hybrid can, but drivers don't need to remember to plug it in to maximize their fuel efficiency. Plus, the Sienna is a less expensive purchase up front. That said, the Pacifica Hybrid does qualify for federal and provincial incentives, which may change this value proposition depending on your needs and where you're located.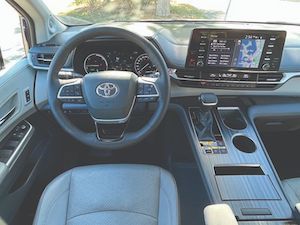 And if you're thinking that the Pacifica Hybrid benefits on interior space, think again: its battery is housed beneath the centre of the van, which means Stow 'n Go seats aren't available for the second row. So, if you're looking to use a van's full available cargo space on a regular basis, you're almost certainly looking outside the hybrid side of things entirely.
The final argument in favour of the Sienna? Its hybrid powertrain is standard and comes with available all-wheel drive. Again, there's only one other van sold in Canada that offers AWD, and again it's the Chrysler Pacifica, but in this case it's only with the gas powertrain and only on the most expensive trims. A Sienna Hybrid LE AWD starts in Canada from $42,890 before fees, which is much more practical from a fleet perspective.
The 2.5L, four-cylinder engine and electric motors combine for a total system output of 245HP. Lower-speed applications with plenty of stops and starts are where this powertrain does its best work, when the electric motors help get the van up to speed more quickly and the throttle feels more responsive. In higher demand situations such as merging onto a highway, the engine's unassisted power output of 189hp and 176lbs-ft of torque feels more sluggish, especially under load.
Bells and whistles
We tested the Limited grade, which is priced at $61,310 including a destination charge of $1,890. This comes with a lot of bells and whistles that are certainly nice to have but won't be required by the average fleet buyer such as second-row captain's chairs with ottomans, an above-view parking camera, seven-inch digital instrument cluster display, and 12-speaker JBL audio system. The LE AWD comes with heated front seats, a heated steering wheel, three-zone automatic climate control, a nine-inch infotainment system with Apple CarPlay and Android Auto connectivity, and a full suite of safety systems including a pre-collision system with pedestrian detection, lane departure alert with lane tracing assistance and steering assistance, dynamic radar cruise control, automatic high beams, blind spot monitoring, and rear cross-traffic alert. Add in 949L of cargo space behind the third row and 2,129L behind the second row, and this entry point for the Sienna will suit most business applications just fine.
For outright practicality, especially for moving people and things on city streets, there's simply no replacing the minivan. When it can be had with excellent fuel efficiency and the added traction of all-wheel drive, that brings usability in Canada into the equation. And to get these features in combination, the Toyota Sienna is the way to go. Suburban families may be leaving them on the lots, but for fleets, this minivan is a smart choice that makes a whole lot of sense.